Digital Connect provides free one-on-one tech support to seniors, as well as complimentary computer tablets and internet access (based on available funding) to those who qualify. With our full calendar of online health, wellness and social programming, participants stay connected and have digital access to telehealth appointments, worship services, ordering groceries and more, all while remaining safe at home.
Live Life Connected
The DIGITAL CONNECT program with 1:1 tech support can open a whole new world to you. This program will help YOU:
Gain access to ZOOM, email, social apps, shopping, banking and all the Meals on Wheels online programs
Learn to use your own device or receive a free tablet if you qualify*
Get familiar with scheduling and participating in telehealth appointments
Connect to food/grocery delivery
Stay in touch with friends and family virtually and MORE!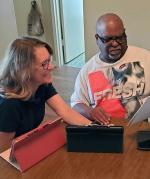 SERVICE LEVEL 1
For those who qualify*, Meals on Wheels provides at no cost: 
A tablet device, initial set-up appointment
Internet service*, through the federal Affordable Connectivity Program (ACP), tech support
SERVICE LEVEL 2
For those with their own devices: 
Access to tech support at a reduced hourly rate, not to exceed $40 per hour
A Free Tablet/Internet Access
*People with income at or below 200% of the Federal Poverty Level qualify for a free tablet and internet service through the federal Affordable Connectivity Program (based on available funding and not using the ACP for another device). If you have WiFi, you can still qualify for a free tablet. Participants are required to access Meals on Wheels' variety of programming twice monthly.