WE FEED BODIES, MINDS AND SPIRITS
At Meals on Wheels of Southwest OH & Northern KY our mission is to deliver essential services that promote the independence of seniors so they may remain in the comfort of their own homes.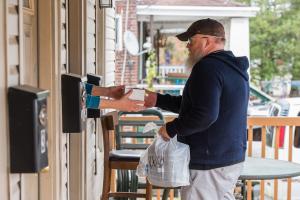 We deliver meals to seniors who might otherwise go hungry. Each of our 32 meal options—prepared in our own restaurant-grade kitchen—is tasty and nutritious. Many of our seniors receive therapeutic meals to help them manage a health issue, such as high blood pressure or diabetes.
But what we do is about far more than food, it's about seeing our seniors flourish as they deserve.
We don't just drive up, ring the doorbell and leave the meals. We bring their meals inside and chat with them. This helps break up their day and provides an
opportunity—often the only one they get on any given day—to share their thoughts, stories, jokes, hopes, and concerns. It helps counteract isolation, which can lead to depression.
Our interactions also allow us to keep an eye out for our seniors, to spot anything troublesome or worrisome, which we report to the senior's case worker or family. It's not just our meals that are helping seniors remain healthy, but also our attention and genuine concern.
For instance, we're there for Katherine, whose hands created many masterpieces, but can longer open a can of soup. For Wanda, the one-time social butterfly who is unable to leave her home. For George, a former cop who can no longer monitor his own safety.
In addition to our Home Delivered Meals, we also offer a wide range of additional services, including: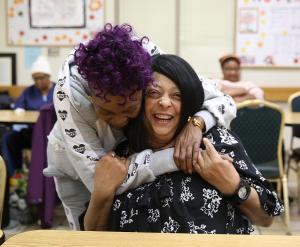 As an official Meals on Wheels America partner, we benefit from being a part of a powerful national network that fights senior hunger and advocates for our elders, yet all donations and gifts stay locally where we serve. In addition, we share best practices through the national organization and often adapt their educational and marketing materials, making us more efficient while lowering expenses.