The Big Chill
When her refrigerator died, Patricia Kleine lost all of her medicine - and almost her life.
We were able to purchase her a new one.
Patricia Kleine pulls open the door of her refrigerator and points at two shelves that are loaded with boxes.
"This is where I keep my medicine," she says. "They gave me six boxes this time. It's about $3,000 worth of medicine."
For the last 15 years, Patricia has suffered from diabetes and must take insulin in order to keep her blood sugar at a reasonably normal level.
"I have to give myself five shots a day with one of these," she says, pulling a thick gray pen from one of the boxes. "I give myself the shots in the stomach."
She puts the pen back and slowly closes the door. As it closes, she gently touches the control panel on the outside of one of the doors. "I can't begin to tell you how lucky I am to have this refrigerator to keep my medicine in."
The sleek styling of the brushed-steel refrigerator stands in sharp contrast to the historic detailing that runs through the rest of her 150-year-old home—the wide molding around the doors and windows, the ceramic-tiled fireplace, the clawfoot bathtub in the adjacent bathroom. While blending modern amenities into an historic home is popular with the This Old House generation, for Kleine the contemporary addition of the refrigerator serves more as a reminder of how fragile life can be and how little it takes to throw the world off balance.
In January she awoke to find her old refrigerator had died. The freezer was warm. Everything was melting. Most importantly, her medicine was in danger of going bad. Insulin is a peptide hormone and must be kept between 36-46 degrees Fahrenheit in order to maintain its potency.
"I called the appliance repairman, and he said because of its age, the refrigerator wasn't worth fixing," she says. "I couldn't afford a new one, so I called my son and we tried to find a used one that I could afford."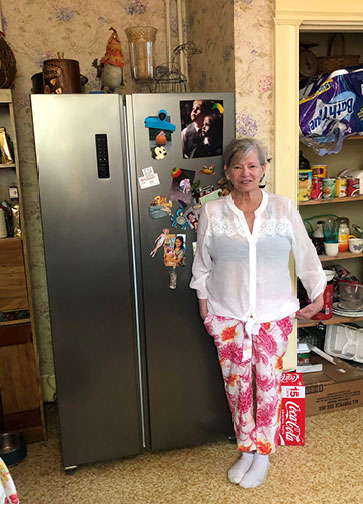 She searched for three weeks, even contacting churches and various agencies in hopes of securing funding that would help.
"I was keeping everything in a cooler," she says, pointing to the blue-and-white plastic picnic cooler that sits on the floor nearby. "I filled it with ice packs, but that didn't work. I called the pharmacy and they made me throw out all of my medicine. I lost about three months' worth of insulin."
Patricia's struggle immediately became topic of conversation when a Meals on Wheels Independent Living Associate came for her monthly visit. MOW's ILA Program, which is part of the larger Social Services Program, provides seniors with help on a wide range of day-to-day activities, such as sorting and organizing mail, paying bills, applying for community resources, and making phone calls to coordinate appointments.
Realizing the urgency of the situation and the potential consequences of Patricia losing her insulin, the ILA made a phone call. The social services program at Meals on Wheels has an emergency fund set aside to help with situations such as these. Spending a little money on the front end to help a senior in a dire situation can result in a huge savings later on, both in terms of finances and health. Without the insulin, Patricia would have ended up in the hospital. She also would have had to resort to going back to the check cashing businesses she used to go to in order to secure money to buy one on her own.
"The total cost for addressing this critical need was $975.32," says Cheryl Bolender, senior manager of case management services, who oversees the emergency fund. "That covered the purchase and set up of an 18.8-cubic-foot Frigidaire refrigerator. Recker and Boerger, the appliance company, included a discounted price for this purchase, as we explained the need to try to keep the expenditure at $1,000 or less so that we can continue to stretch our emergency funds to serve as many of our seniors as possible."
The refrigerator was delivered the following day.
---
Patricia walks back through her living room and steps out onto her front porch, which is shaded from the afternoon sun by a large oak tree that covers her tiny front yard.
"I had to trim it back once," she says of the tree. "People tell me I should just cut it down, but why? Look at all of the shade it provides."
She takes a seat in a padded chair.
"My husband and I bought this home 35 years ago," she says. "We raised five kids here. Then he found a girlfriend and left. He said it may be the biggest mistake he could ever make, but he was going to make it anyway. He tried to come back once. I told him no. So it's just me, and I don't want to leave. The thought of living in a retirement home makes me ill. I couldn't stand it in a place like that. People want to stay in their homes. It's where they feel comfortable, where their memories are. But it's tough. I used my 401(k) money to put all five kids through college, so all I have left to live on is Social Security."
To help ease up some of her limited monthly income, Meals on Wheels helped Patricia receive SNAP benefits so she could save on groceries, and she guided her in the application for getting extra help with her Medicare premium payments. She also helped her receive home delivered meals from MOW, which are specific to help her with her diabetic and cardiac care. In addition to her diabetes, she also has congestive heart failure.
"My whole body is breaking down," she says. "The diabetes is affecting my gums, so now I have to have some teeth pulled. I had to have neck surgery not too long ago. I couldn't lift my head. I had 18 pieces of metal put in the back of my neck, otherwise I would have been in a wheelchair. People tell me I look like I'm in good shape, but I'm pretty brittle inside."
She settles into the chair and stares out past the tree. In addition to her physical issues, she's weighed down by emotional challenges as well. She was on an equal billing cycle for her utilities, but the increase in natural gas prices and the long cold winter meant she used more than she was paying for, and that left her in a huge deficit she has to find the money for.
"I don't know what I am going to do," she says, "but it will be OK."
She pauses.
"You know, Meals on Wheels and the Council on Aging have been amazing to me," she says. "I've never asked for anything, but they've always given me what I need. Without them, I would not be able to live here."