Life, and All That Jazz
Helping others by sharing his musical skills was the key to Clifford Wilbon's life. Then things started going dark, and now he's in need of help. Except for playing the trumpet. He can still play that horn.
Over the course of his lifetime, it's hard to count the number of lives Clifford Wilbon has touched. Hundreds? Thousands? For 20 years he taught band or music within the Cincinnati Public Schools system. During the summer, he taught at Hillcrest Academy, which is operated by the Hamilton County Juvenile Court and Probation Department. On the weekends, he was part of the music team at New Prospect Baptist Church, saving souls with the sounds of his trumpet.
When he retired from teaching, a fraternity brother helped him find a second career in real estate. He fixed up one building and then got another. And another. Before he knew it, he was overseeing an empire of 14 properties, which he would rent to families who needed a little break.
Helping others was always the key to the song of his life, whether it was through his teaching skills or playing ability, and he made sure he shared it with everyone he could.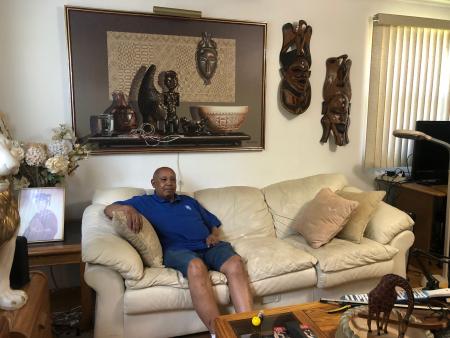 Then his world started getting dark. Then darker. And darker still. Like someone was turning down the dimmer switch on the ceiling light. A trip to the doctor's office finally revealed the bad news: Glaucoma. It's a genetic disorder that he got from his father's side of the family.
You can slow its progression, he says as he sits at the kitchen table of his Westwood home, but you can never regain what you've lost. At the moment, he's lost all of the sight in his left eye and some in his right eye.
"Right now everything is dark," he says. "It's like being in a restaurant where they turn down the lights to create an intimate atmosphere."
The condition brings with it some unforeseen struggles, such as what to do with the three cars that sit in his driveway that he can no longer drive. Or the bigger issue of social isolation that is all-too-common among seniors. He occasionally catches rides with people he knows or pays for transportation. Still, most days are spent at home by himself. It's tough. 
"I'm stuck," he says. "I can't go to the store. Nobody comes and gets me unless it's for a doctor's appointment. If I wanted to go to Bond Hill, it would be a major trip."
He never had any children of his own to lean on for support, but has a sister in town. However, she's taking care of their brother who has dementia as well as a grand-nephew and a grand-niece. They try to help each other out, but that, too, is tough.
Meals on Wheels delivers 14 meals a week to him, so he has company and food. His favorites: Chicken strips and fish, which he pops into the air fryer on the counter to make crispy.
Clifford has always struggled with his eyesight. Growing up, he says, he had the thickest glasses anyone's ever seen. That made it difficult to go outside and run around, but helped teach him two things that had a profound impact on his life: How to play the trumpet and how to persevere.
As one of eight children to a single mother, there wasn't money when it came time for college. 
"But I could play that horn," he says with a smile. 
He parlayed that ability into scholarships and grants and finally a degree in music education from Central State University in Dayton.
"I would hitchhike home on the weekends," he says. "I would throw my bag of laundry over my shoulder and head out. Sunday morning, I would turn around and hitch my way back. It was 70 miles round trip."
He taught band in Dayton Public Schools and Xenia City Schools before returning to Cincinnati to teach in Cincinnati Public Schools and earn his master's degree in education from Xavier University. He eventually switched to teaching music as a result of budget cuts.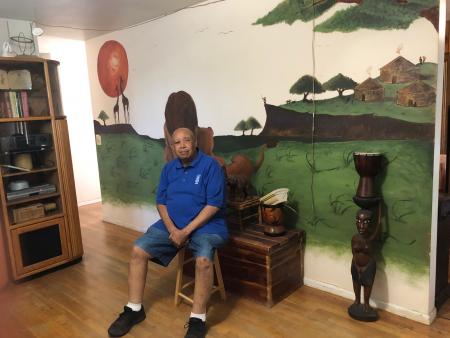 "In band, every kid has an instrument," he says, "and kids can be clumsy people. So we were paying for repairs to the instruments all the time. When they needed to cut the budget, that was a big savings."
What the next chapter will bring is still being determined. He can't see to read music anymore or see the keys on the piano, so he's always hitting a wrong note, which is frustrating. He has slowly been getting out of the rental property business. "My eyes don't work but my brain still does," he says. "I can't do the work anymore, but I can know what is supposed to be done and if it was done right."
Despite the challenges and limitations, he refuses to let the darkness get a grip on his soul. He's got his faith--"All that I am, all that I have, all that I will ever be is because of God," he says—along with a playlist of motivational podcasts on the iPad that sits in a stand on the kitchen table in front of him. Plus, perseverance is rooted too deeply in his character to not do something.
"I'm doing a lot better than most," he says. "I've led a good, full life. The eyesight is a minor setback. I'm not going to die because my eyes are bad."
Plus, he says with a smile, "I can still play that horn."