Meals on Wheels steps into disaster response role, responding to winter storm emergency
 month after helping Kentucky tornado victims
All you have to do is step outside your door or just look out your window to realize that the roads are not suitable for driving. That makes life tough when your job requires you to be behind the wheel of a van, delivering meals throughout the region.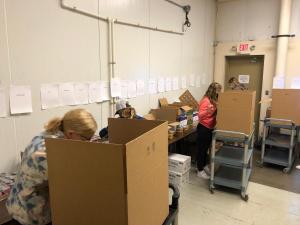 Getting seniors their meals is our highest priority, but keeping our drivers safe is just as high of a priority. It can be a tough balance. That's why earlier this week we decided to not risk sending our drivers out in this weather. Instead, we decided to deliver all of Thursday's meals on Wednesday. It was a last-minute decision and created a mad scramble. Our staff pulled the meals, and we sent out an urgent message asking for volunteers to help us make the deliveries ahead of the storm. And they did. We had more than a dozen volunteer drivers step forward and make sure our seniors had their food. On a normal day, we deliver around 4,000 meals. On Wednesday, we delivered nearly 8,000 meals. As a supporter, you should feel proud of the people who work and volunteer every day to keep our seniors safe and fed.
We prepare for snow storms and other disasters each year, packing two-day emergency food boxes that we keep on hand in case a disaster hits. However, in January, we expanded our emergency relief efforts…twice! First, we packed and delivered 14-day food boxes to seniors in rural areas of Kentucky, where recovery from winter weather like this typically takes much longer. And, we expanded our efforts outside of the region for the first time by packing and delivering 1,000 boxes of food to seniors in Western Kentucky who are still struggling to recover from the devastating tornadoes that struck in December.
We asked CEO Jennifer Steele about these efforts in Western Kentucky. 
Why did MOW decide to take a leadership role in the tornado relief effort for W. Kentucky? 
"Our hearts broke when we learned of the devastation, including the destruction of the senior nutrition site. So many seniors had lost their homes, had significant damage, and/or had no access to the nutrition that they depended on. We immediately reached out to our partners at the Northern Kentucky Area Development District, and they put us in touch with their counterparts in Western Kentucky, who asked us if we could prepare 1,000 shelf-stable meal boxes for delivery just after Christmas. These meals don't need to be refrigerated or heated, so they're ideal for disaster relief situations in which there may be limited power or running water. It was our busiest time of year, but our team knew that we couldn't possibly turn our backs on those seniors and families when we had the capacity, resources, and experience to respond in exactly the
way that they needed. We'd quickly activated volunteers to help create boxes of non-perishable food during the early days of the COVID shutdowns, and we knew that we could do it again. We always try to say yes when there is a need, and it was just the human, right thing to do."
Why is TQL an important partner in the effort?
"We're in the logistics business ourselves, but we deliver individual meals directly to the doorsteps of seniors in need. In this case, we needed to move more than 1,000 meals in boxes on pallets over hundreds of miles via a semi-truck to reach the devastated area of Dawson Springs, KY. TQL specializes in this, and their Moves That Matter program came to the rescue. We didn't have to worry about locating or coordinating with a truck driver, and could focus on ensuring that we had the food, volunteers and funding needed to respond quickly to the disaster relief effort. Our partners in Western Kentucky are able to focus on recovery and response."
How can others help support the recovery effort, which is sure to be an extended period of time due to the destruction?
"The response to our efforts has been truly overwhelming, and we're so moved and grateful. People can help support the recovery by signing up to be notified of our volunteer opportunities, and/or by making a financial gift to help cover the cost of food, supplies and transportation."